Make Your Trade Show Exhibit Stand Out from the Crowd With a Chair Massage Attraction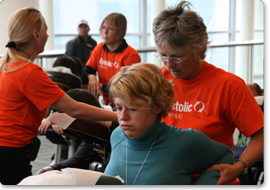 Chair massage always works. When attendees see massage chairs and massage therapists working they'll stop and look, and ask how they can get a massage. It works with every attendee population; from the American Society of Health-System Pharmacists, to the California Cattlemen's Association. Hands-on-relief for neck and shoulder stress and tension is one of the most popular trade show promotions available. Read more: Benefits of Chair Massage at Your Next Trade Show Exhibit.
We'll add the human touch to your exhibit
You'll have the opportunity to pre-qualify visitors while they wait. They'll wait for 20-minutes or more for their free chair massage. With many trade show promotions there is the possibility that attendees will come to your exhibit, get their free gift and leave. With chair massage they'll come, sign up and wait patiently in your exhibit to receive their massage. And while they wait, your booth staff will have the opportunity to meet and pre-qualify them.
Communicate your marketing message during the massage. While attendees receive their chair massage they'll hear your Customized Relaxation Audio, which contains your marketing message and a guided meditation. And after their massage, they'll be relaxed, know your key selling point, and be more open to talking with your sales staff about their needs.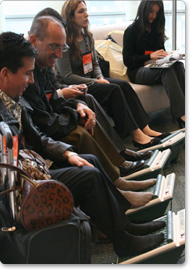 Work with 20-Minute Vacation at your next show. We specialize in trade shows and understand the needs of exhibit professionals. Our friendly, talented massage professionals will delight and sooth your attendees. We'll become a supportive partner to your sales team. We'll add the human touch to your exhibit and bring in the crowds you need.
It all begins with attraction! Chair Massage: It's the Trade Show Attendee Magnet You Need for Your Next Show