Trade Show Booth Ideas — How to Stand Out From the Crowd with Chair Massage
There is one thing visitors always want at a trade show: someplace to sit down and rest, regroup, check their email and just relax for a while. Your offering of a chair massage attraction from 20-Minute Vacation will provide all that and more.
Attendees Enter Your Relaxation Zone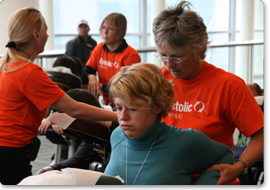 When attendees approach your booth they'll be offered a free chair massage. You'll put their name on the waiting list, swipe their badge and invite them to sit down in a comfortable chair and use the electric foot massagers. The strong vibration will increase the circulation in their feet and ankles while they chat with other attendees catch up on emails or just take it easy. Once their name is called they will be greeted by their massage therapist and be seated in the massage chair. The massage therapists will do a brief health screening and place soft headphones on them and begin the chair massage. They'll hear a guided meditation with soft music in the background during the massage. A short message from your company will be included in that. The padded headphones and Relaxation Audio will eliminate the noise of the exhibit hall and enhance the relaxation effect of the chair massage. After the massage your visitors will be relaxed, refreshed and deeply appreciative of your company — having had a foot massage, an upper body massage and time to rest for a while. They'll be in your booth for 20-minutes or more.
Chair Massage is More than a Freebie
Free chair massage is a serious booth attraction. You'll attract more attendees and will swipe more exhibitor badges. And while attendees are waiting you'll have an opportunity to chat with them about their business needs. And they'll hear your marketing message via headphones during the massage. They'll be in a receptive mind set and more open to talking to your booth staff.
Some Ideas on How to Use Chair Massage in Your Booth
Do a Pre-show Promotion
Promote the free massage in a pre-show email blast or postcard. Or include your postcard in the show registration packet. Either way, require attendees to bring the postcard it to your booth to receive their free chair massage. You'll have people showing up a few minutes after the show opens.
Pre-qualify Visitors
You'll have a chance to talk to attendees while they are waiting for their massage. Your booth staff could casually chat with them or could ask them to fill out a registration card. Of course you can just let them sit there — but aren't trade shows about interaction, qualifying attendees and setting up future sales? Chair massage provides a great opportunity for that.
Offer the Massage Outside Your Booth…
…and drive attendees to your exhibit. With the cooperation of show management you could do a chair massage sponsorship at another location in the hall or in a public area. When people ask how they can get a massage tell them to visit your exhibit and get a massage coupon. They'll need to talk to a booth representation at that time. They can get their chair massage at a later time at their convenience. This way they will be in your branded area twice during the show. If it's a large show you'll need 3-6 massage stations.
Market to Them During the Massage
Your Customized Relaxation Audio will include a one-minute marketing message and a six minute guided meditation, all with soft music in the background. We don't recommend more than one minute of marketing out of the 7 1/2 minute massage. Call us to get a sample of the Customized Relaxation Audio and hear how other exhibitors have done it.
Integrate Your Marketing Message with the Massage Offering
The idea of massage and relaxation could be molded into an integrated show promotion that begins with your pre-show promotions, is spotlighted at the show, and even continued after the show in your follow-ups. "Relax — we've got you covered," something like that. Or you may have a company or products that easily lend themselves to a massage theme: healthcare, body lotion, shoes (foot massage) or food (food show attendees love massage). Integrated messaging is Marketing 101 — but most exhibitors who use chair massage don't do it.
Do you have room for chair massage in your Booth?
If you have a 10' booth for your company you would only have room for one massage therapist. But this works well for small exhibitors. It's a great conversation starter and you'll have good traffic for the whole show. It's especially good for 10' booths in the hinterlands of the exhibit hall. Attendees will be attracted there.
If you have a 10' X 10' space dedicated to chair massage you'll have room for 2 massage stations and three electric foot massagers. That's a lot of attraction power in a small space.
Here is some information for larger exhibits. » How much exhibit space will I need for chair massage in my exhibit or event?
Please call us if you would like to learn more about chair massage for your trade show booth, if you would like to get a quote for a specific show.