Chair Massage Attractions for Marketing and Sampling Tours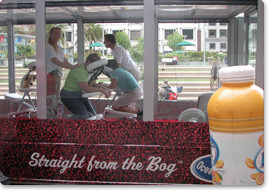 We'll be hands-on for you – nationwide!
The benefit of massage for your nationwide marketing event is essentially the same as at trade shows. It will draw a crowd, keep them with you while they wait for their massage and give them something they will really appreciate. While visitors are waiting you can speak to them, and hand out samples and marketing information.
Integrate chair massage with your marketing message.
Offering free massage is an easy way to draw a crowd, especially if the product you are promoting can be associated with health and relaxation. We have provided hand massage for a Playtex Living Gloves tour; foot massage for the Free Spirit shoe company; chair massage for Ocean Spray; and chair massage for Curel hand lotion products. Most recently we staffed facial massage and foot massage therapists for Nivea at the 2010 AVP Professional Beach Volleyball Tour. All these were nationwide tours and our clients for most of them were event marketing agencies.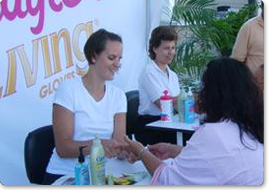 We have the massage therapists you need – but that is not the main benefit.
The main benefit 20-Minute Vacation provides for marketing tours is logistical. Obviously we can provide the massage therapists you will need at every stop of your nationwide event. We'll use the same network of event massage therapists we call on for our trade show customers. But the main benefit we offer is in meeting the complex logistical needs of your tour. Let's say you have a marketing event with say, thirty locations, three days at each event, and three massage therapists working at each stop. Such a tour could require a minimum of 90 individual massage therapists. And because we will not always be able to find three therapists who can work all three days it's likely the tour might require as many as 120 individual therapists. You probably don't want to staff this many massage therapists yourself.
Once we have your tour dates and event locations we will staff each location with the required massage therapists, document their massage liability insurance and massage licenses, communicate to them all the details necessary to get to the assignment and do their job (copying you), and pay them after the event.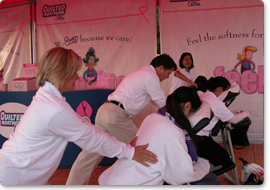 Sometimes things get complicated – we're ready!
Sometimes our customers are still lining up the stops during the tour and we may only have a week or less to staff some tour stops. Sometimes locations are postponed, cancelled or changed at the last minute. Furthermore most events are more active on weekends so we need to be in communication with the on-site tour facilitators at all times to respond to last minute changes regarding locations, parking permits, etc.
We'll be there for you at each event.
We will do whatever it takes to make sure the required chair massage therapists are at each tour stop, even if we have to staff an event with 24 hours or less notice. We thrive on the challenges of these types of marketing tours.