Attract, Qualify, Communicate and Improve:
Communicate Your Marketing Message While Attendees Receive a Chair Massage
A New Twist on Trade Show Marketing – A chair Massage with Your Advertising Message
20-Minute Vacation will produce your 7 ½ minute Customized Relaxation Audio which contains: A 1 ½ minute introduction and marketing message; a 6-minute guided meditation; and a short closing, all with soft music in the background. The Relaxation Audio, and therefore each chair massage, will be about 7 ½ minutes in duration. We have found this to be the perfect length – long enough to feel great and justify the wait, and not so long as to make the people in line wait too long. Contact us to receive a few audio samples of our customized relaxation audio.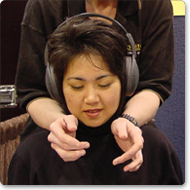 Attendees will relax, unwind and hear about your company. The soft headphones and the soothing voice of the narrator take away the noise and tension of the exhibit hall and intensify the relaxation effect of the chair massage. This is not subliminal advertising; everything is above board and audible. It's simply a very relaxing way to receive a brief massage. And while attendees are in this receptive, relaxed state they'll hear your short, focused marketing message. After the massage they'll be approached by your booth representatives who will have the opportunity to continue the qualifying/selling process.
They'll hear a professionally produced Relaxation Audio. Your audio will be recorded and edited at Ben Manilla Audio Productions in San Francisco. When they receive the text for your marketing message and closing, they'll edit it into the guided meditation and send the MP3 file to you for approval. Then we'll load the Relaxation Audio onto iPod Shuffles and send it to the show, along with the headsets and charging docks.
You'll get the results you need: an exhibit full of happy attendees, grateful for your gift of relaxation and open to hearing about your products and services.
How Chair Massage Can Improve your booth traffic, lead count and overall impact